THE MAID OF HONOUR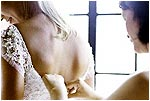 The Bride's honour attendant is called the Maid of Honour if she is an unmarried woman, Matron of Honour if she is or has been a married woman, and if you happen to select a male you may refer to him as your Best Person or Man of Honour. It is important that you have someone of legal age to sign the wedding documents.
The role of the maid of honour before and during the wedding day is to help and support the Bride. It is important to select someone dependable. They may be a sister or a very close friend. They could of course be another relative such as a cousin. niece or even mother or daughter of the Bride. Your honour attendant may certainly be someone who lives out of town, but remember that they will not be able to help with as many pre-wedding details.
It is traditional for the person selected as the maid of honour to be indicated by a dress of a slightly different style or colour, a somewhat different headpiece, or to carry a slightly different bouquet.
The traditional responsibilities and duties for the maid of honour: