Bachelor Party Girls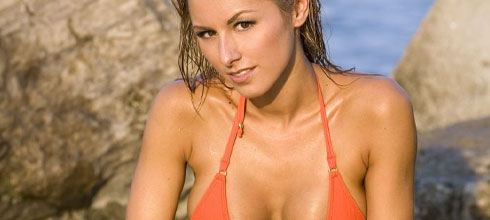 If you want to be a BachelorParty.com's girl of the month, Please contact us
Bachelor parties offer men about to be married their last chance to have a little fun before it is time to get married and become devoted to only one person. Traditionally, a new wife isn't going to let her husband head out to the strip club or have a private stripper or escort come to give him a private lap dance. This is probably why going to the strip club, or having a private escort or stripper show up to bring some life to a bachelor party, has become quite a common practice.
The bachelor party girls at the club differ from the private stripper and escort services though both are typically available no matter where you choose to hold your bachelor party. When you go to a club, you are going to have to compete with all the other patrons for the girls who are stripping up on this stage. This is an excellent social environment to buy a few drinks, slip some money into her g-string, and spend some time bonding with the groom before its time for him to say, I do. You might even want to buy him a private lap dance with one of the attractive club strippers.
A private escort or stripper has other perks that a club girl does not have. The first benefit is the ability to hold the bachelor party in a private setting. The second benefit is that because of this, the only people the groom and the bachelor party attendants have to compete with for her attention, is each other. The private escort or stripper often has her own private show routine planned. You might get the stripper nurse or the stripper leather mama. If you are looking for girls just party with you at a club or pool parties, Bachelor Vegas offers what's called atmosphere models Each party girl can have her own theme to make any bachelor party more unique as she puts on a show for everyone at the party. The downside to this is private services often cost more then going to the strip club.
Whatever choice is made, the beautiful and fun bachelor party girls really know how to light up any bachelor party. The best advice for any bachelor party planner is to do a little research and find out whether a trip to the strip club or private services are better based on price, availability, and the preference of the groom.