Austin Bachelor Party
One of the most unique parts of Texas is Austin. The capital city of Texas certainly has a way of allowing people to see the absolute best that the state has to offer. The entire city is an experience from the trendy coffee bars and laid back bistros, all the way down to the down home Southern bar-b-ques. The music scene is rich and diverse and there are plenty of things for people from all walks of life to enjoy.
When it comes to lodging in Austin, Horseshoe Bay is one of the best options around. This amazing resort style hotel offers such amenities as three on-site golf courses, four swimming pools, 14 tennis courts, a Bayside Spa, gourmet dining, and more. While there are many other options in Austin, no one does it quite like Horseshoe Bay!
The nightlife in Austin is fierce so if you visit you should be prepared to party! Some of the most notable local haunts include Champions Sports Bar, Coyote Ugly, Cork & Co, Hole in the Wall, Maggie Mae's, and Victory Grill just to name a few. If you want to take your crew out for some of the best adult entertainment in Austin, you should check out Sugar's Uptown Cabaret, The Landing Strip, or The Yellow Rose for your Austin bachelor party.
Austin has plenty of outdoor options to add an excellent element to any bachelor party. You can enjoy parasailing, gliding, and party cruises. The Rock Gym offers rock climbing in an indoor or outdoor setting. Barton Creek Greenbelt also offers an amazing setting that allows for hiking on a natural surface or biking along the natural trails. There is also an eclectic art and cultural scene in Austin.
Add all this to the excellent restaurants and the natural ambiance and you have the perfect spot for a party in Austin, Texas. Austin bachelor party
The Planners
---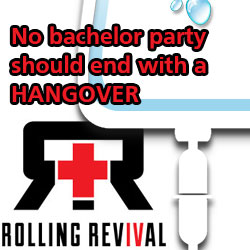 Rolling RevIVal
Rolling RevIVal is Austin's 1st and only hangover bus. They will come to your bachelor party and hook you up! Literally. Their medical professionals will hook you up to an IV and revIVe you the fastest way possible. No bachelor party should end with a hangover. Rolling RevIVal's IV hydration will cure you of the symptoms of a hangover in about 30 minutes. They can easily accommodate groups of 4-20 people. Call or text (512)820-1259 to reserve the Rolling RevIVal Bus in advance, With a motto like "We'll kick your hangover's ass!" they are no joke. If your plan is to have a great time in Austin don't let a hangover get in your way, reserve the bus and get ready to have Texas size fun!
Phone # : (512) 820-1259
Website : www.rollingrevIValbus.com
---
Spark Parties
Spark Parties Save the stress of planning the perfect bachelor party (or just a guys' weekend) and let us be your concierge for the weekend. Fully customize your own experience or mix and match any activities from some of our favorite categories: Adventure, Lake, Day Drinking, Golf, Live Music, and Outdoors.
Address : PO Box 2650 Austin, TX 78768
Phone # : 512.777.1231
Hours of Operation : 9:00 a.m. - 5:00 p.m.
Website : www.sparkparties.com
---